Germany - Cameroon : Cameroon struggling with efficiency
Published:
25.06.2017 11:00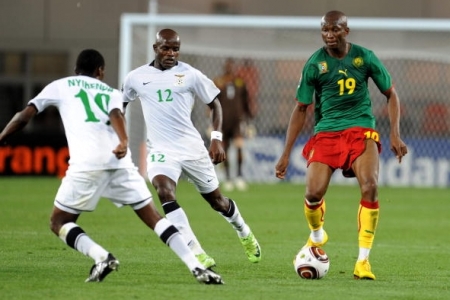 Football, Kup konfederacija (M)
Germany need a point today to get through and keep Low's semifinal run going
Germany opened the Chile game a bit slowly but they managed to equalize late in the first half. The draw from that game means Germany now need only one point to get through.
Germany are favorites today but Low is careful:
- Teams like Cameroon can be very dangerous because they have nothing to lose. They can only gain a lot. I expect a challenging game. I saw their game and realized their players can be very fast in offense. They are persistent and fast, which can be a deadly combination.
Low has lead the team at five major competitions so far and has always reached semis. His young team is very close to doing it once again in Russia. Low didn't want to reveal his lineup today.
Cameroon played a great game and it was only the lack of efficiency that prevented them from winning. The African team had the lead but Australia managed to equalize from a penalty. They need to look for a win today even though that won't guarantee them the semis. They will still depend on the result from the other game.
Coach Broos said this before the Germany game:
- If any of you know a good forward, please tell me and I'll check him out. We are looking and looking but we cannot find out.
He was especially critical of Aboubakar but doesn't have anyone better to put on the team:
- Sadly, Cameroon do not have a top level forward at the moment and we need to deal with that. Our top scorer at Africa's Cup of Nations was defender Ngadui with two goals. Still, we are making progress and that makes me happy. We didn't have a team a year ago and look at us now. We'll make more progress by World Cup. Games like the one with Germany are perfect for that.
Broos fielded the same lineup twice in a row. He said there will be changes due to inefficiency and fatigue but the key players will stay on the lineup.
Comments